A Day in Bang Krachao
January 23, 2023
2023-02-03 10:41
A Day in Bang Krachao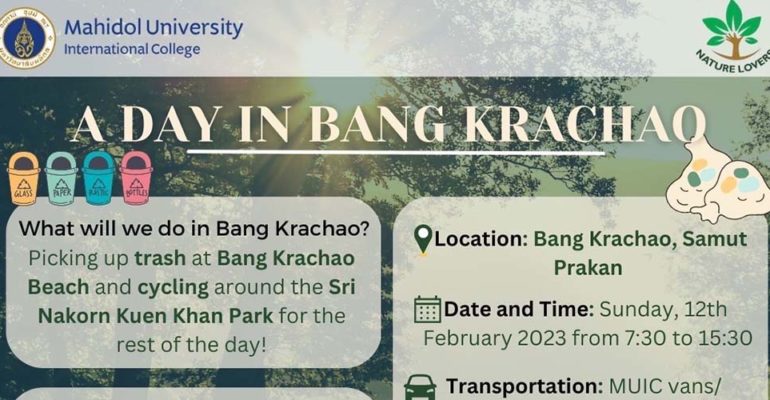 A Day in Bang Krachao
Greetings Nature Lovers,
The pre-registration for A Day in Bang Krachao will be released on Monday 23rd Jan at 10:00 AM.
In this activity, participants will help clean the Bang Krachao Beach area and cycle around the Sri Nakhon Kuen Khan Park to explore the ecosystem at Bang Krachao.
Date: 12 February 2023 (Time: 7:30 – 15:00)
Important instructions
1) Participants will have to pay a deposit fee of THB 300 to confirm their seats. The deposit will be returned after the activity if the participants show up on the day of the activity.
2) Transportation will be provided (MUIC vans). However, participants can go by themselves.
3) After pre-registering, a google form will be sent through your email where you can pay the deposit and inform us about your dietary requirements.
AT Hours: 5 in Environmental Literacy