A Window into the French-speaking World
May 24, 2022
2022-05-24 15:02
A Window into the French-speaking World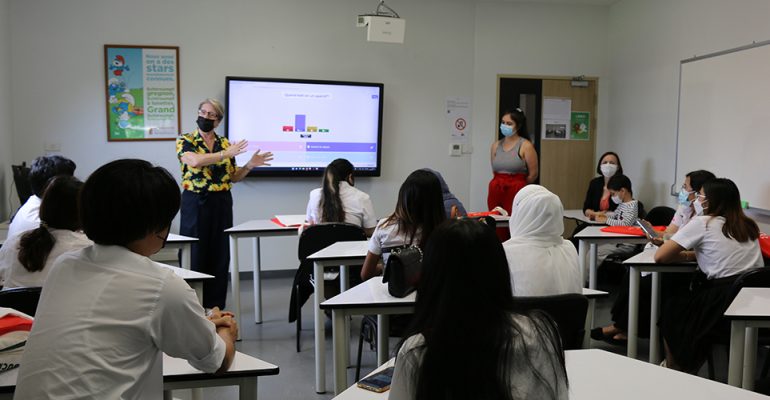 A Window into the French-speaking World
By Mrs. Agnieszka Atthasit
On Friday, May 13, 2022, Pre-intermediate French III students visited Alliance Française which is celebrating this year the 110th anniversary of its establishment in Thailand. Located in the heart of Bangkok, the Alliance Française offers French courses and a rich cultural program showcasing all kinds of artistic expressions. Every week, a six-floor modern building equipped with an auditorium and an art gallery hosts several cultural events, talks, education fairs, concerts, and film screenings.
Students visited dance, fashion, and language classrooms during a half-day field trip and discovered the French library and resource center – la médiathèque. They participated in the French gastronomy workshop, vocabulary games and met a representative of Campus France – a French agency to promote higher education and international mobility. The visit to this exceptional window into the French-speaking world was an excellent opportunity for MUIC's students to interact with teachers and administrators of the institution and discover French and Francophone culture.
French is one of the foreign languages that MUIC students learn for their personal development and academic path and an additional asset for their professional career. They choose to learn French – la langue de Molière – to develop their intercultural skills and to discover the culture of mainland France and the diversity of the French-speaking world. Today, French is an official language in 29 countries, with most of these being part of the community of French-speaking countries in the world known as la francophonie. The Organisation Internationale de la Francophonie (OIF) estimates over 300 million French speakers across five continents. French is today the language of international institutions, research, gastronomy, fashion, cinema and visual arts.
Besides close collaboration with the Alliance Française in Bangkok, the French program at MUIC has collaborated since 2018 with the Alliance Française in Nice, France, for a yearly Summer Program Abroad organized by the Foreign Language Program, Humanities and Language Division.
____________________________
Mrs. Agnieszka Atthasit is a lecturer of the French Program, Foreign Languages Program, of the Humanities and Language Division of MUIC.