Masterclass Observation Booking
February 16, 2021
2021-02-16 6:26
Masterclass Observation Booking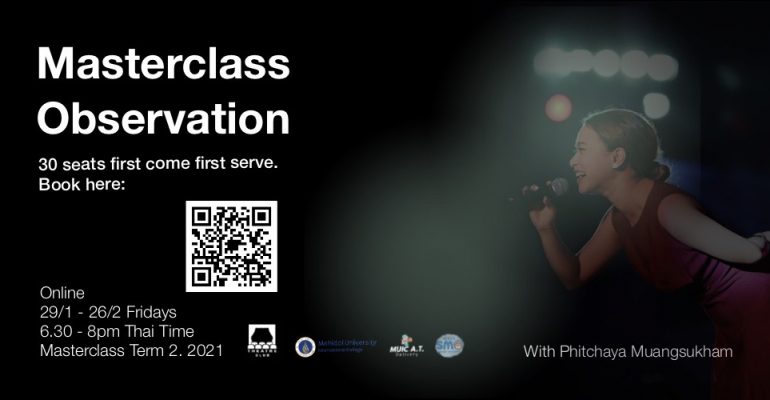 Masterclass Observation Booking
Hello again! Thank you for your interest in MUIC Theater Club's activity!

If you aren't a Masterclass participant via auditions, this form is for you to claim your spot as observers! Courtesy to Phitchaya Muangsukham, our coach, who's allowing friends to sit-in and collectively experience this valuable opportunity together. 30 seats opened, first come first serve. We are currently accepting more people to fill in the empty spots when people swing in and out so the class would be of maximum benefit.

Sessions every Friday 29 Jan – 26 Feb, 2021.
6.30 – 8pm Thai Time.

*Google Meet is our platform. Please use chrome for best supported browser. We will use the same link every call, which will be emailed out to you promptly. Please call with the email you provide below. Only you with the email given below can enter the meeting.

*If you are an MUIC student, you will receive Internationalization 5 AT hours and Digital Literacy 5 At hours for joining and staying throughout at least 3/5 sessions which officially lasts from 6.30-8pm. Attendance will be checked! Please leave your cameras on and show yourself 🙂

As always, we will be sending out an activity evaluation form after the activity is done. Please kindly complete it for us!

Follow us on our social media for updates and more at:
#THICMasterclass2021
#theatreic
IG muic.theatreclub
FB MUIC Theatre Club

Excited to see you soon,
Faye, P Plaeng, and team.