MUIC's Case Club Joins APEC Voices of the Future 2022's Opening Ceremony
November 29, 2022
2022-11-29 9:37
MUIC's Case Club Joins APEC Voices of the Future 2022's Opening Ceremony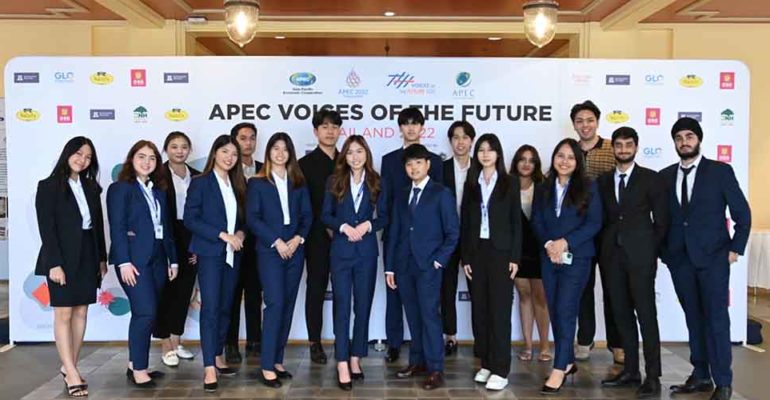 MUIC's Case Club Joins APEC Voices of the Future 2022's Opening Ceremony
Fourteen members of the Mahidol University International College's (MUIC) Case Club along with two other students from the International Students Counselors (ISC) joined the "APEC Voices of the Futures 2022 – Opening Ceremony," on November 13, 2022, at Anirudh College.
One hundred-one APEC Voices of the Future delegates representing 14 economies gathered at the Vajiravudh College Assembly Hall for the opening reception where they listened to a keynote address by Mr. Thani Thongphakdi, APEC 2022 SOM Chair, and opening remarks from Ambassador Mr. Kittikhun Chartprasert, Vajiravudh College Headmaster, and Mr. James Soh, Co-Chair of the APEC Voices Leadership Council.
Thailand as a host of APEC 2022 works with a fresh perspective to ensure that APEC will achieve a more balanced, resilient and sustainable growth. From the year of "Join, Work, Grow" in 2021, to the year of "OPEN, CONNECT and BALANCE" in 2022, APEC aimed to be strengthened to be more adept, agile, result-oriented, and relevant to the prosperity of people and businesses.
After the opportunity to attend APEC Voices of the Futures 2022's Opening Ceremony, the members have gained many valuable insights from entrepreneurs along with various exceptionally talented youth.
The MUIC Case Club expressed its gratitude to Mr. Jeerawut "Pooh" Chavanaprayoon for providing the club members with this remarkable opportunity and making all this possible
The Asia-Pacific Economic Cooperation (APEC) is a regional economic forum with 21 member economies across Asia-Pacific region. Established in 1989, APEC has its core value of promoting regional economic integration under a non-legally binding manner and friendly environment