Who Let the Ghosts Out? Halloween Activities in MUIC
October 31, 2022
2023-02-01 9:15
Who Let the Ghosts Out? Halloween Activities in MUIC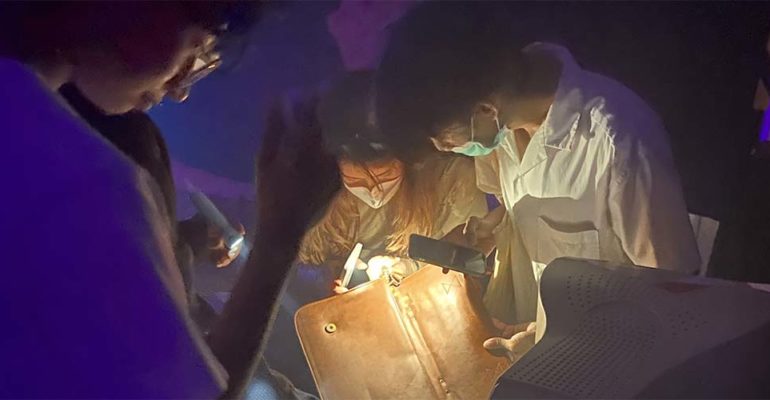 Who Let the Ghosts Out? Halloween Activities in MUIC
Mahidol University International College's Student Association (also known as SMO) collaborated with MUIC Sigma Club and held Halloween activities on October 31, 2022 at MUIC Building I.
SMO and Sigma Club joined forces to organize activities for MUIC's students to observe Halloween. The activities included Halloween Movie Screening, The Escape Room, and Halloween Costume Contest.
A total of 237 students participated in the activities that encouraged teamwork, leadership, and creative skills. Students who participated in Escape Room and Halloween Costume Contest showed both a competitive and cooperative spirit.
Many students also showed up to classes wearing costumes of their choice, creating a warm, joyful, and fun atmosphere in the MUIC campus, bringing life back again to MUIC after a long Covid-19 lockdown.
Escape Room Winners
1. Temfah Nitipraditkul Student ID 6281304 Major ICCD
Year Senior 1st Place Winner
2. Kevin Monga Student ID 6481099 Major ICCS
Year Sophomore 2nd Place Winner
3. Walini Pinto Student ID 6580473 Major ICBI
Year Freshman 3rd Place Winner
Halloween Costume Contest Winners
1. Kanin Pornjaratpisut Student ID 6381103 Major ICMF
Year Junior 1st Place Winner
2. Kasidech Tangprapa Student ID 6381363 Major ICMK
Year Junior 2nd Place Winner
3. Chotparith Proongkiat Student ID 6380386 Major ICMI
Year Junior 3rd Place Winner