Membership
August 17, 2021
2022-06-01 3:42
Membership
Stay near your MUIC friends and join our community!
For ISDP/MUIC alumni who have not been the MUICAA (Mahidol University International College Alumni Association) member yet, please follow the steps below for a successful registration of alumni membership.
How can you sign up for membership?
Transfer 1,000 THB (lifetime membership) to SCB Bank Account as below details:
Account Name: MUIC Alumni Association
Account Number: 333-210213-6
Email your pay-in slip to icalumni@mahidol.ac.th or attach it in the online registration (in this case you have to make a payment before register in the online link).
Or Scan QR Code for payment here.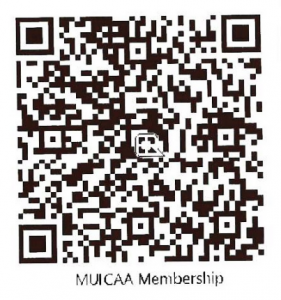 An MUIC Alumni Association membership card, which can apply special offers from MUICAA privileges and deals from Rabbit and its partners.
Discount admission to all alumni reunions and events
The right to run for and vote for the Association's leadership team
Most importantly, members have access to the Association's resources in order to re-connect with former acquaintances, friends and colleagues
Find business connection and enjoy privileges and many other opportunities from the Alumni Association, MUICAA Website.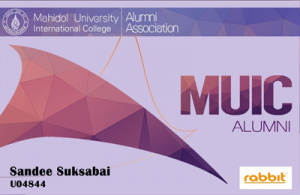 Membership Card Terms and Conditions
This card is valid only for the cardholder shown at any services provided for MUICAA membership.
Special offers from MUICAA privileges are valid as shown on the list.
Deals from Rabbit and its partners can be applied for 5 years.
This card is entitled to a discount at those shops listed in the Mahidol University International College Alumni Association website only. The card cannot substitute for cash payments.
In case of loss or damage, please contact the Alumni Association to issue a new card and it is subject to a renewal fee of THB 300.
For more information, please contact:
Office Hours: Mon-Fri, 8:00 am-5:00 pm