Alumni & Student Achievements
September 5, 2021
2022-06-01 6:51
Alumni & Student Achievements
Alumni & Student Achievements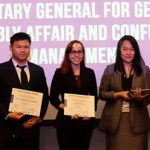 Ms. Rosemary Gosteli Dela Cruz
A student majoring in Intercultural Studies and Languages received two awards at the UN4MUN Southeast Asia Conference 2018 held on January 17-20, 2018 at the Centara Grand and Bangkok Convention Center in Bangkok. Ms. Rosemary Gosteli Dela Cruz was given the Diplomacy Award and the Best Position Paper Award based on her performance in the event. UN4MUN is the official model United Nations procedure established by the UN Department of Public Information. As part of the activities, Ms. Dela Cruz was assigned to play the role of a delegate of China in the United Nations Security Council, representing China's views on issues that were discussed. The activity's goal was to successfully draft a resolution (which had been agreed upon via consensus), as well as the completion of the presidential statement, press elements, and press statements.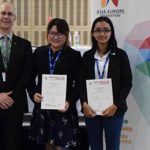 An Intercultural Studies and Languages major received the Best Delegation Award in the 5th Model Asia-Europe Meeting (ASEM) Spinoff held in Singapore on December 8-10, 2017. Ms. Suthida Chang took on the role of head of the French delegation in the socio-cultural and educational pillar, responsible for giving the intervention in the panel discussion and debating the means of creating smart cities. In receiving the award, Ms. Suthida was cited for her distinguished diplomatic and conflict resolution skills, as well as giving the best intervention speech.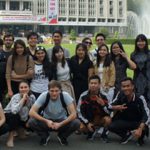 Ms. Pakpitchaya Niyomsirivanich
Intercultural Studies and Languages student, represented Mahidol University International College (MUIC) in "The 3rd General Assembly of Silk Road Universities Network" held on November 8-11, 2017 at the University of Social Science and Humanities, Vietnam National University, Ho Chi Minh City, Vietnam. Organized by the Silk Road University Network of the Hankuk University of Foreign Studies of South Korea, the event was an opportunity for international scholars and researchers to exchange knowledge on various aspects of cultural diversity in the Silk Road region. Around 200 members attended, inclduing university presidents, professors and student representatives, and directors and associates of member institutions from 50 universities, 35 cities, and 25 countries. Ms. Pakpitchaya prepared a summary of the Silk Road University Network's activities in 2017 and new projects in 2018 and submitted it to MUIC.